Are you thrilled when you see fresh Leads flowing into your business but then struggle to convert enough of those Leads to eke out some growth?
The Lead conversion step is a critical one – it's the best place to outperform the competition and leave them starving. At the same time, it's the easiest place to lose ground to your most savvy competitors.
If you are losing too many Leads then that's the place to start working on your process.
Lifecycle Marketing
This picture of the Lifecycle Marketing process may be familiar to you:

turboDial can be deployed at many steps of the process. In this article we'll focus on the Nurture stage – nurturing a Lead to become a viable sales opportunity.
Scenario: A Realtor
Let's use the example of a Realty agency that has a consistent flow of Leads but just as consistently loses them to their competitors.
Your goals in nurturing are:
For Leads who are potential buyers, your goal is to get a home viewing appointment booked on the calendar.
For potential sellers, your goal is to gain their agreement to sign a listing contract.
Diagnosing the Problem
As the manager of this agency you see Leads coming in to your business daily when people submit web forms that indicate they may be interested in buying or selling a home. But you need to understand why your Leads are disappearing.
So, you decide to spend a few days just watching the process, and as you observe your team at work a couple realities start to emerge:
First, when a Lead is captured there's often a delay before anyone in your team tries to reach them.
Second, when your team gets a nurturing conversation underway with a Lead, the ongoing followup is disorganized – sometimes it happens, sometimes it doesn't.
Third, you don't have the reports and metrics to know whether or not your Lead Conversion is operating well or has gotten off track. You don't have the information you need to supervise your team.
In terms of the initial attempt to contact the Lead, you know that as soon as the lead submits the web form on your website they are likely moving on to a competitor's website and will submit another web form there. The first agency to get that Lead on the phone is most likely to convert into a sales opportunity. Quick initial contact when a Lead arrives must become a priority in your business.
It's also true that when you have successfully contacted the Lead, you aren't likely to get as far as an appointment or listing contract in that first phone call. Multiple conversations may be needed. If your team doesn't stick with it, and persist in following up with the Lead your competitor who knows how to do that will be the one who converts them. Your agents often get busy with other work and the responsibility for follow up isn't always clearly defined.
Your Team's Workflow
Your job now is to implement a Lead Nurturing process where your team consistently jumps on new Leads as soon as they appear, and routinely follows up with them until the conversion to an appointment or listing contract is achieved.
Here's a high level view of the process you decided on:

Let's break down each step: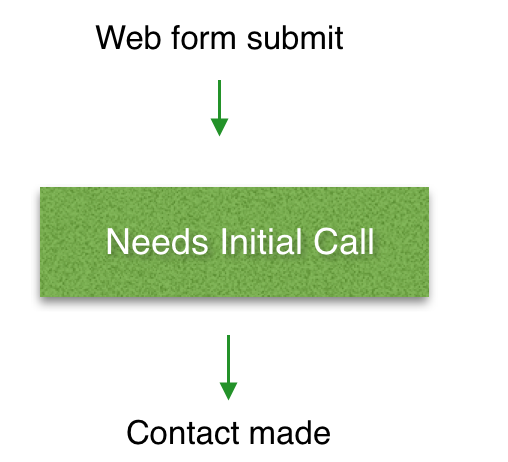 In this Initial Call step, you will setup your team with some tools and a staffing schedule so that the first attempt to contact a new lead occurs within 2 minutes after the Lead submits the web form. And those contact attempts will continue until initial contact is achieved.
In the Nurture to Inquire step you begin with a Lead who is willing to engage in a conversation and then work to educate them to the point where they ask for information specific to their own situation. That is an indication of their growing interest.
Their original inquiry was to request a lead magnet document or whatever you use to get them to submit the web form. Now we need to get them to the place where they ask for more specific information. In the case of a prospective seller, that Lead magnet could mean requesting something like a free market analysis on their home. For a buyer, it might be the financing pre-approval step.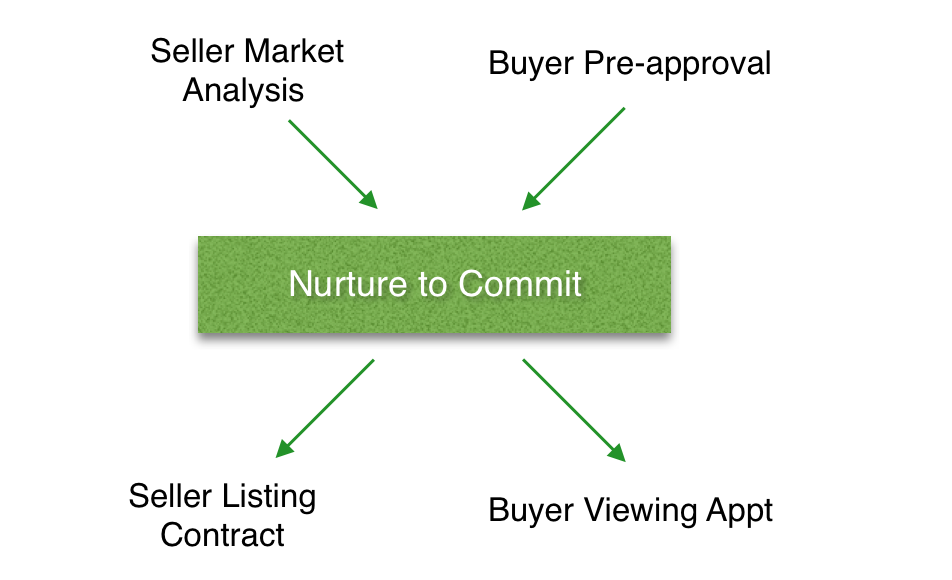 Once the lead has requested specific information, the Nurture to Commit step is used to bring them to a commitment. For the prospective seller this means obtaining a listing contract, and for the prospective buyer it means securing an appointment.
With these three steps in mind, your agents will feel confident in the high value of follow up they are providing and the consistency in which its being delivered.

Your Calling Lists
A common element to all three steps of your work flow is that each of your agents will be making calls to their Leads throughout all three steps. You need to set up separate calling Lists, one for each step. Using these Lists you can organize the work of your agents, and assign each of them to spend time every day making calls to their Lists. So, your Lists can be titled simply the same as your workflow steps:
Needs Initial Call
Nurture to Inquire
Nurture to Commit
Each day, an agent will spend time attempting to contact the new Leads who have not yet been contacted, time on the phone with Leads who have not yet requested specific information, and lastly, time with the Leads who are known to be interested but have not yet committed.
In the Infusionsoft world you market to your customers according to a "segmentation." In this process, your Calling Lists each correspond to a segment.
So, these Lists guide the agent through the Lead conversion process. And with the right automation tools to support their work, the agent will always know who and when to call.
The Right Tools for your Workflow
To help your agents efficiently operate in your new Workflow you will implement these tools:
Infusionsoft Web Form
You collect Leads by creating a web form goal in your Infusionsoft campaign. You can see here that we have one web form for prospective buyers and one for prospective sellers.
Hot Lead Calls in turboDial
http://turbodial.biz/hot-lead-calls/
In the Needs Initial call step, it is critical to get the first call attempted immediately after the web-form is submitted. The Hot Lead Calls add-on in turboDial is specifically designed to accomplish this. With Hot Lead Calls:
Agents will receive an immediate call from turboDial when a web form is submitted and can connect right then to the Lead.
Agents can even be notified while they are away from their desk. This helps solve the forgotten follow-up problem. Picture this: New Leads can be contacted even by an agent who is attending her daughter's soccer game.
The agent may select a Call Outcome when the call is completed (see more below) to trigger some automated follow up.
(See your turboDial Management account for full information on how to set up a Hot Lead Call campaign: https://sd123.customerhub.net/hot-leads-calls)
Campaign SMS Text Messaging in turboDial
http://turbodial.biz/campaign-sms/
Research shows that Millennials have now surpassed the Baby Boomer generation in size. That means they are now your biggest customer group. However, research also shows that Millennials do not like to receive phone calls and in addition, are reluctant to engage via email. What does this mean for companies such as yourself that rely on ongoing communication with potential and current clients?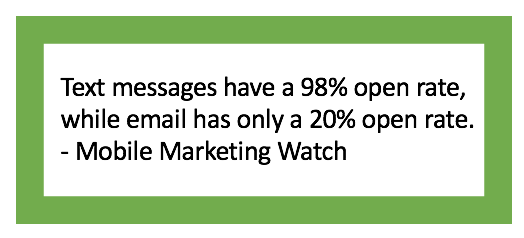 The Campaign SMS add-on is a great solution. You can use it as an alternative method for connecting with those Leads who are not very reachable by phone or email. When your agent does not successfully contact the Lead using a Hot Lead Call, your follow up system can automatically attempt to start a conversation with an SMS text message.
These automatic messages work just like other SMS text messages from turboDial – replies are immediately routed to a person in your company allowing them to engage in a real-time conversation with the Lead.
It is becoming apparent that many clients may read and engage via SMS text messages more than any other form of communication. The Campaign SMS add-on in turboDial is designed specifically to help you win those customers.
Infusionsoft Tags

Tags in Infusionsoft are a powerful tool and you will use them to designate your segments and Calling Lists. Your Tags can be simply named the same as the 3 steps of your Work Flow:
Needs Initial Call
Nurture to Inquire
Nurture to Commit
You can define an Infusionsoft Tag for each of those segments and apply or remove the tags to move a Lead from one segment/Calling List to another. That will be further explained when the Infusionsoft campaign is presented.
List Dialing in turboDial
http://turbodial.biz/guide-list-dialing/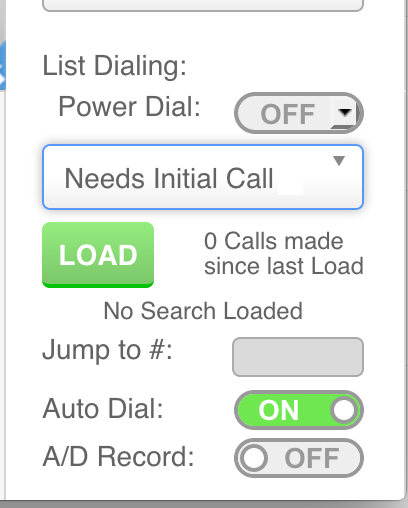 Create Saved Searches in Infusionsoft for each of your 3 Calling Lists using your 3 tags. When it's time to make calls to a Calling List, your agent can import the associated Saved Search into turboDial and begin calling using the List Dialing feature in turboDial.
Because your agents can load their Saved Search directly into the turboDial app, they can minimize the use of Infusionsoft and work solely in turboDial. That saves significant time in navigating the List of Leads they need to contact.
Call Outcomes
http://turbodial.biz/guide-call-outcome/
You want the results of each call to be documented in a way that helps you build useful dashboard reports. And those reports are key to improving how you manage your team. More on that in a subsequent section.
You should now consider your nurturing process and identify the most common Outcomes for the calls your agents are making.
From your observations you have decided your Call Outcomes are:
Wrong #
Not working #
No answer, left a voicemail
No answer, could not leave a voicemail
Answer, they said they are not interested
Answer, more follow-up conversations are needed
Answer, they indicated clear interest
Scheduled home viewing appt.
Agreed to listing
turboDial offers a feature right inside of the turboDial Panel for Call Outcomes to be assigned and saved to the call note record after every call that is made. Your Dash Board reports will use Call Outcomes to expose important details on your team's calling efforts.
Call Outcome Table
It may be useful to craft a table, such as the one pictured below, outlining all possible Call Outcomes (down the left) and the correlating Call Lists (along the top). Here is where you decide what happens after each call. A table such as this will aid in the building of your Infusionsoft campaign: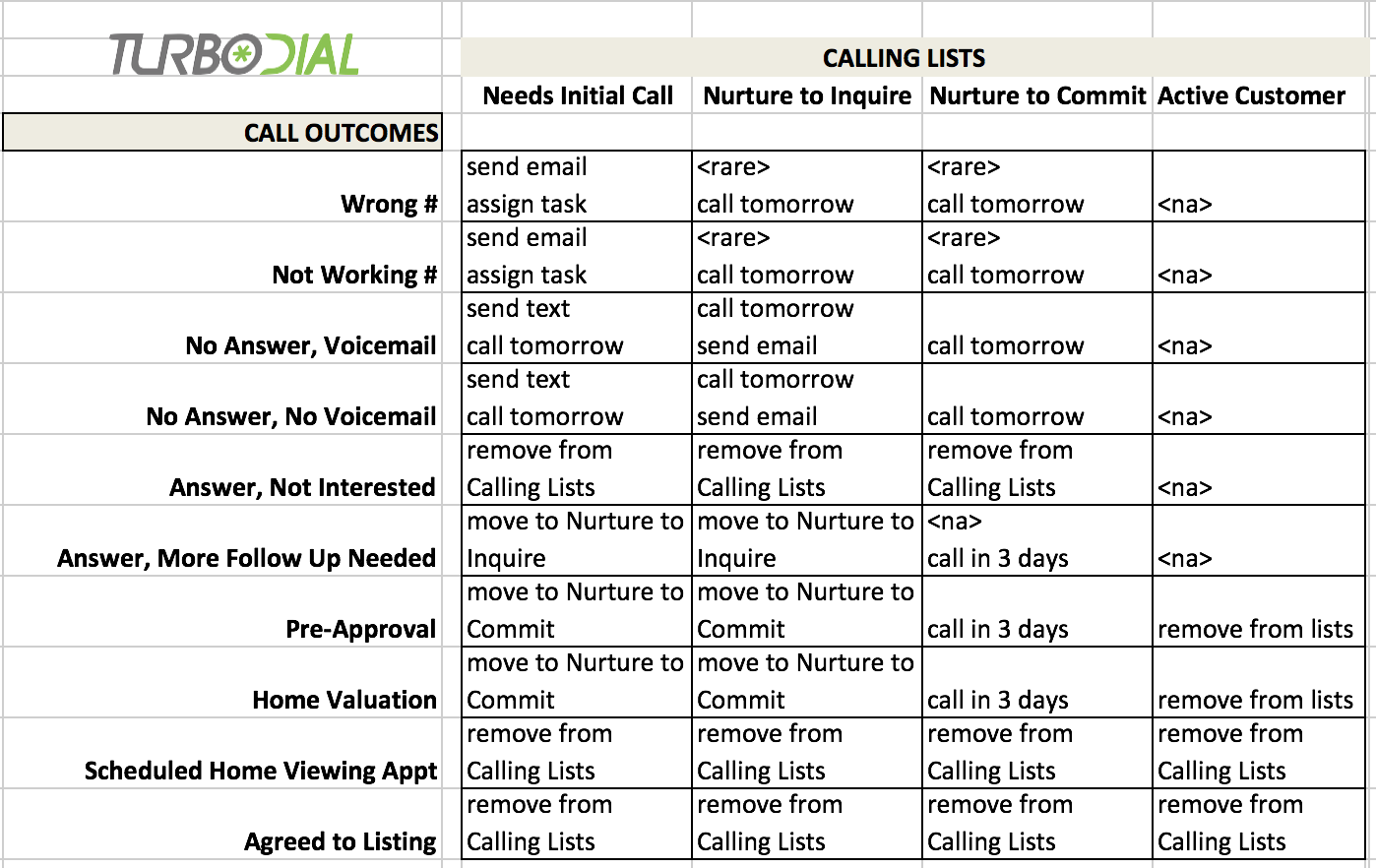 Call Outcome Automation in turboDial
http://turbodial.biz/guide-call-outcome-automation/
In your work flow you need a way to move a Lead from one list to the next. The Call Outcome automation feature in turboDial allows you trigger a different automation sequence in Infusionsoft for each of your call outcomes. You will use it to automatically advance Leads in the workflow and trigger action in Infusionsoft according to the Calling List the Lead is currently in and the Outcome of the call just completed. Often that action is adjusting tags on the Contact Record to move the Lead from one Calling List to another. Note: Your calling Agents don't need to understand how to manage Calling Lists or Tags in Infusionsoft, they only need to know how to choose the correct Call Outcome to leave after a call. Your Infusionsoft Campaign automation will do the rest.
Here's an example of what that might look like in a campaign: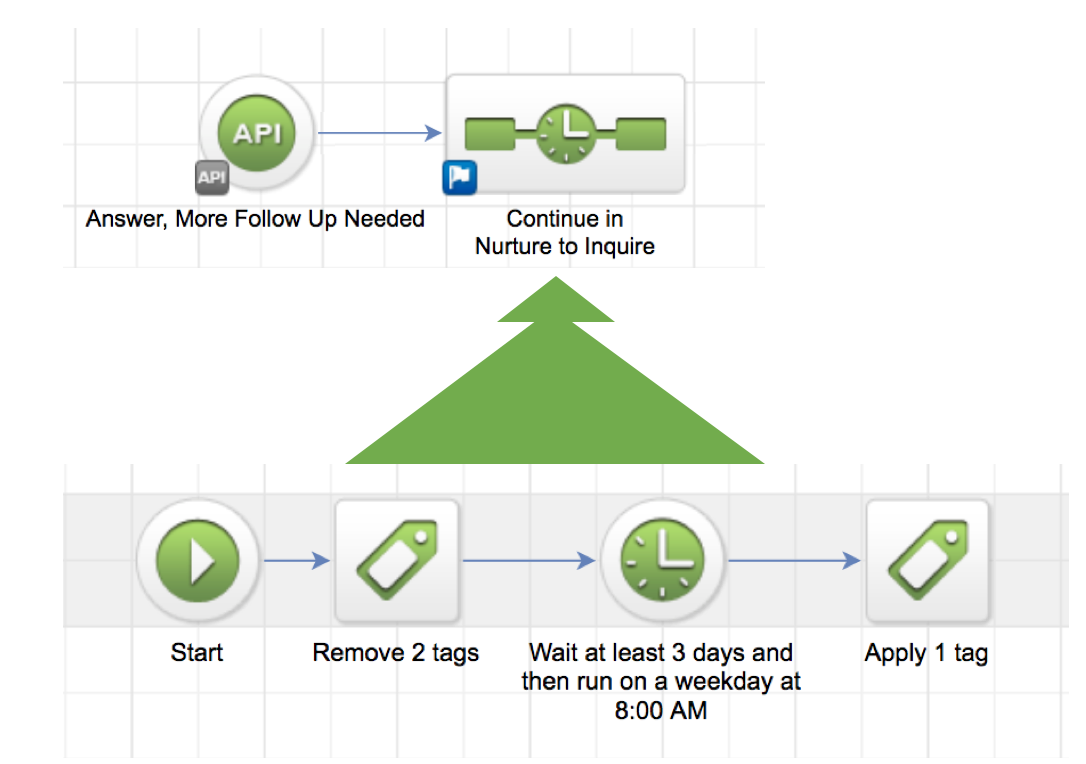 Infusionsoft Dashboard Reports
http://turbodial.biz/guide-reports-metrics/

The importance of a useful dashboard report can be boiled down to this: The companies that "know their numbers" and take action are more successful than those who don't.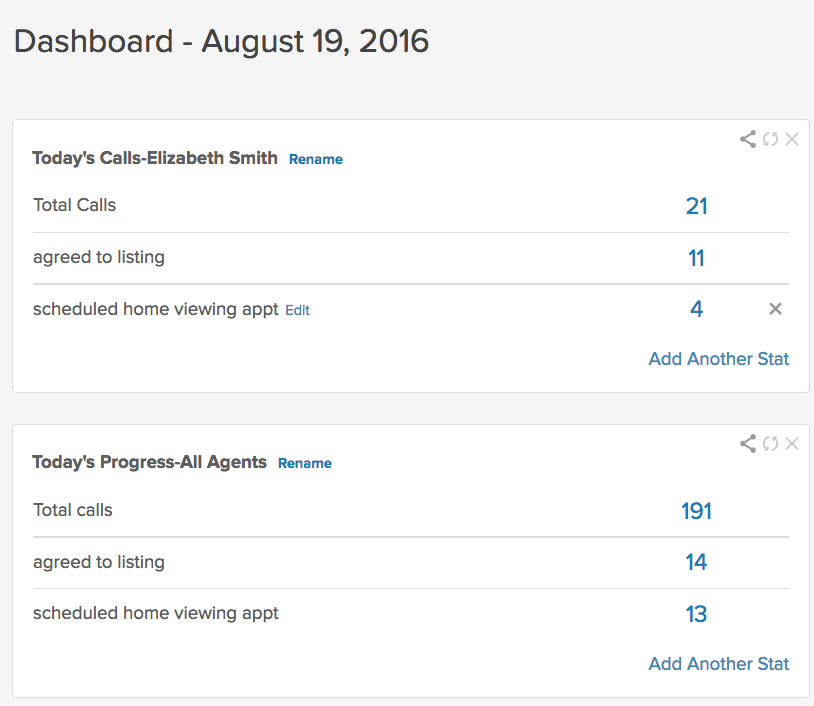 For that reason, turboDial automatically attaches a Call Note to the Contact Record after every call, and you will use those Notes to track results and build reports.
You can create a set of Saved Reports that summarize the turboDial Call Note records for an interval such as the previous 7 days. And then present those reports on your Infusionsoft Dashboard using the Custom Statistics Widget.
With these techniques you can display the progress and results of every calling agent in your team. Now you have addressed one of key problems you identified when starting out – you didn't have the data to know whether or not you team is effective. Now you will "know your numbers."
Putting It All Together
Now lets look at the processes and tools that you have created:

This is what your final Infusionsoft campaign may look like: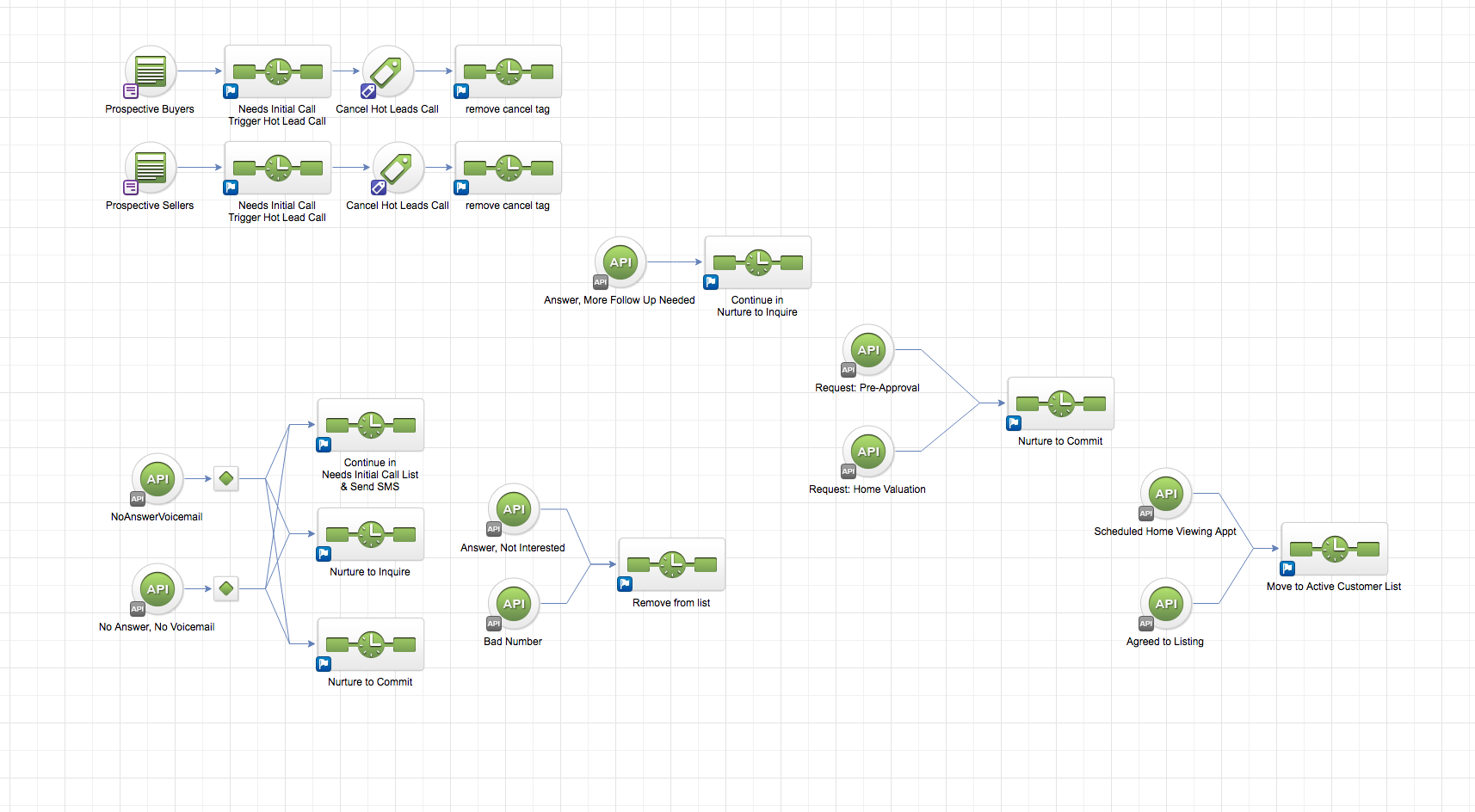 Let's walk through a typical scenario for the case of a perspective home buyer: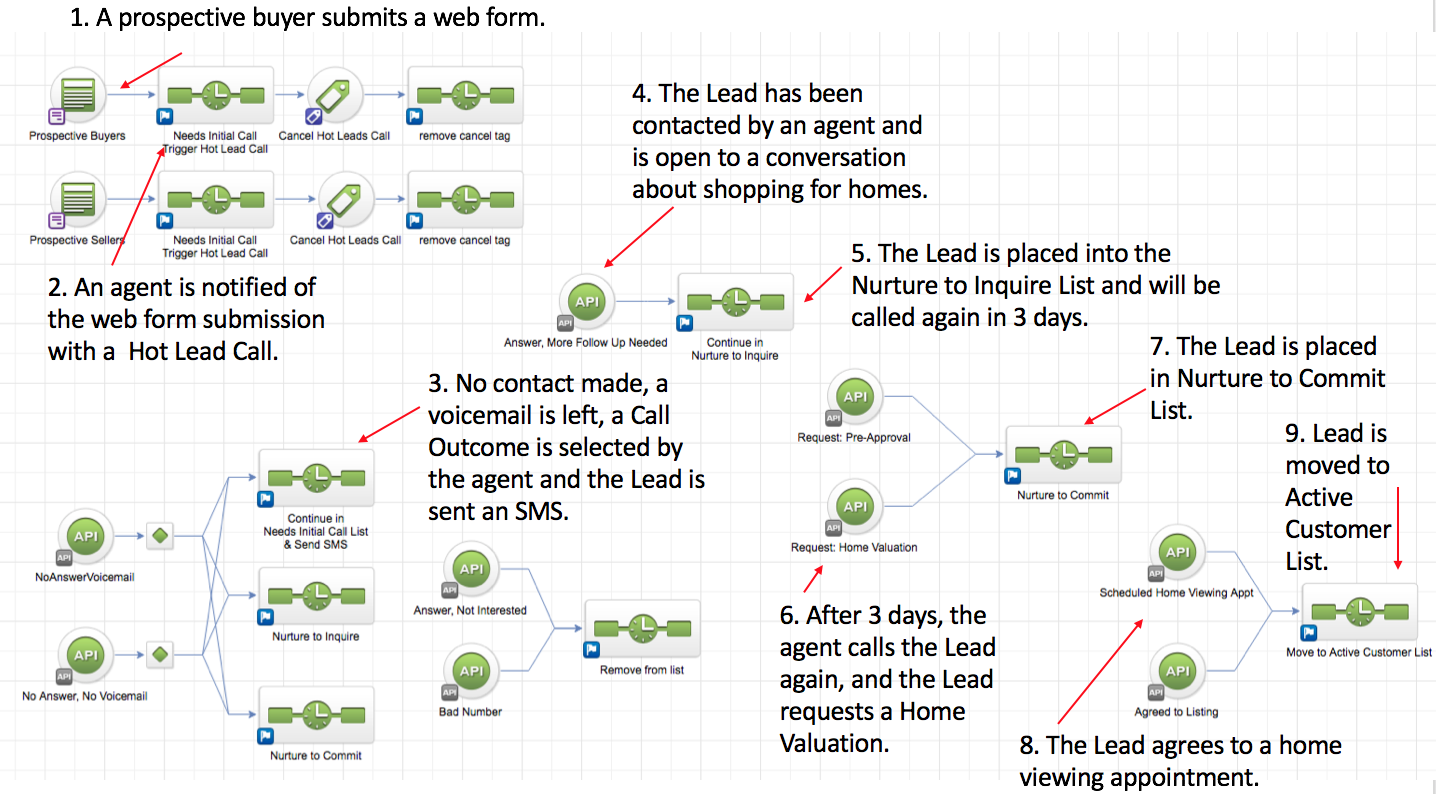 Your Happy Outcome
Now with all the proper processes and automation in place, when a Lead submits a web form you can be confident an agent will be trying to reach them within minutes. And if phone calls aren't the right method, SMS text messaging will be automatically attempted.
You can also be confident your agents will persist in following up with Leads through the Nurture stage because they know exactly what calls they need to be making. Just as importantly, you will see visible evidence of their calling activity and results and take action when an agent is getting off track on their List follow up responsibilities.